Continous Prayer. The Power of Prayer
Welcome to the Continous Prayer website, where we explore the transformative power of prayer and how it can help you lead a more fulfilling and meaningful life. Prayer has been a part of human history for thousands of years, and its benefits have been recognized by people of all cultures and faiths. In fact, prayer has long been known to provide spiritual, emotional, and physical benefits.
This website aims to educate, inspire and encourage individuals to embrace the power of prayer and reap the benefits it offers. It features content from renowned preachers and leaders across different faiths, sharing their insights, experiences, and teachings on prayer. From the timeless wisdom of Jesus Christ to the inspiring words of Mother Teresa, we have collected some of the most powerful and thought-provoking quotes that will touch and enrich your heart and soul.
We will also discuss the science behind prayer and how it works, sharing studies and research that helps to explain the physical and mental impact prayer has on our daily lives. Whether you are looking to strengthen your faith, gain spiritual insights and guidance, or simply find peace and serenity, our website has a wealth of information and resources to help you achieve your goals.
Our articles offer practical tips and tools that you can use to develop a transformative prayer practice. From creating a sacred space to setting intentions, establishing rituals, and using prayer as a medium of communication, we offer practical advice on how to make prayer a part of your daily regimen.
We also explore the different types of prayers and their purpose, such as intercessory prayer, gratitude prayer, and meditative prayer, to name a few. Each of these practices has unique features and benefits, and by understanding them, you can select one that resonates with your specific needs and preferences.
At Continous Prayer, we believe that prayer is a powerful tool that can help us connect with our inner selves, develop stronger relationships with others and achieve our goals. It can help us overcome obstacles, find hope and purpose in life, and discover our true calling. Join us as we embark on a journey of spiritual and personal growth by embracing the power of prayer.
Latest inspirational advice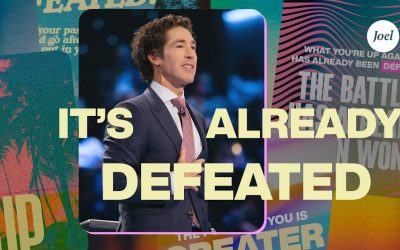 In this video, Joel Osteen delivers an inspirational message about overcoming challenges and negative thoughts by focusing on the promises of God. He starts by emphasizing the importance of having a positive attitude and believing that victory is already yours,...